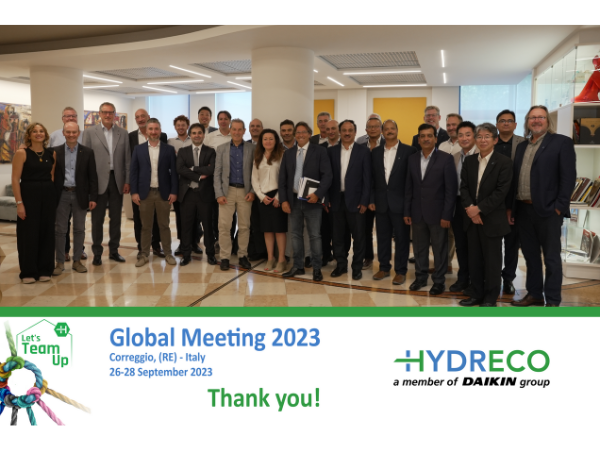 News Hydreco global meeting
We are pleased to share the outcomes of the Hydreco Global Meeting 2023, held in the picturesque town of Correggio, Reggio Emilia. Under the theme "Let's Team Up," this event brought together Hydreco's General Managers and other key managers from around the world, laying the foundation for exciting new projects and upcoming work.
The meeting featured several noteworthy moments:
Engaging Discussions: Attendees actively participated in presentations and discussions that explored industry trends, opportunities, and challenges, fostering insightful dialogue.
Ideas and Innovation: The event sparked a flow of creative ideas, showcasing the depth of innovation within our global Hydreco Daikin family and providing a promising outlook for the future.
Shared Experiences: The meeting encouraged attendees to share their valuable experiences, reinforcing our commitment to collaborative learning and growth.
Keynote Inspiration: We were privileged to host Massimo Tammaro, former commander of the Frecce Tricolori patrol, as our keynote speaker. His address emphasized the importance of commitment, teamwork, and excellence.
Kaizen Workshop: The Kaizen speech and workshop by Kaizen Institute provided valuable insights into continuous improvement, igniting enthusiasm for changes.
The meeting's key topics included networking, budget preparation, cross-selling, exploring new channels to market, and leveraging new/group products. It was underscored by concepts of responsibility change, action, vision, mission, teamwork, communication, originality, and waste reduction (muda).
Hydreco Global Meeting 2023 has set the stage for exciting projects and initiatives as we move forward, fueled by the ideas and inspirations shared during this event.
We remain committed to our shared vision and mission, united as a global Hydreco Daikin family.
Stay tuned for further updates and developments as we continue to embark on new endeavors together.
< Back to News