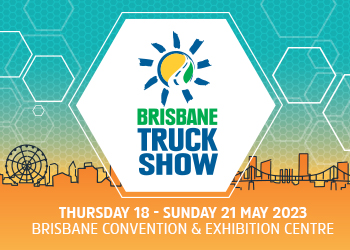 Hydreco Hydraulics @ Brisbane Truck Show 2023
Hydreco Hydraulics Pty Ltd, a specialist in the design and production of motion solutions for the transport industry, will be presenting its new products at the Brisbane Truck Show to be held at the Brisbane Convention & Exhibition Centre, from 18 to 21 May 2023 (Stand 165, Hall 4).
Hydreco, long renowned for its heavy vehicle power take offs, is set to build on this reputation by releasing the most comprehensive range of PTOs for the new Eaton Endurant XD transmission, set to be used in the Kenworth T410, T610 & K220 trucks. Initially there will be two different bottom mount PTOs and three options for the rear of countershaft opening, with more variants in development. These PTOs will be available as a factory fit from Kenworth.
Hydreco is supported by a nationwide network of long-term distributors; Malcolm Nixon of Nixons Engineering said "Nixons Engineering at Wagga have been selling Powauto products since the 1970's and find their PTO, pump, valve and cabin switch range to be the best in the Australian market for the heavy-duty truck industry."
A totally revamped light truck product range highlights Hydreco's renewed focus on this important market segment. The new vacuum shift PTOs, that were released in January, was a re-imagining of what a Hydreco light truck PTO should be. The new Tank & Valve assembly (TKV) sets the benchmark for flexibility and user friendliness with its engineered polymer construction, multi positional hose connections and mounting configurations. While the renewed underbody range of hoists are the only nickel-plated hoists in the Australian market. These products present the freshest innovative ideas on the market from the one supplier.
Hydreco, already a supplier of quality telescopic hoists, looked for ways to improve the performance of the whole tipping system. They examined the existing hose burst valves available and looked at all the issues (including flow restrictions) and requirements; and is introducing its new VA40 hose burst valve which has several unique design elements that offer increased safety, better performance and improved environmental impact. So, when combined with either of their S64 or S65 hoists and a VA105 or VA210 tipping valve, the entire system can be made to perform better with more options and flexibility.
An entirely new line of products, for Hydreco, will also be released; 20L and 40L oil coolers. These units, built to be used on walking floor®, live bottom and water cart applications. These units have a small "footprint" that allows up to 200kg weight saving over conventional bulk oil tank systems, while enabling consistent unloading times due to better oil temperature control. The use of much smaller quantities of oil has the benefit of cost and environmental benefits such as possible spills from hose bursts, component failures etc.
For further information on these products or Hydreco's other truck and trailer products, please drop by at the Brisbane Truck Show or contact the sales team on 1300 HYDRECO (1300 493 732) or visit the website at Hydreco.com.
WALKING FLOOR® is a worldwide trademark of KEITH Mfg. Co.
< Back to News